The machine is Suitable for quick cutting of radish, cucumber and other long strip vegetables or diced (2 times operation) stainless steel food grade blade, no rust, durable for more than half a year, can be replaced. Aluminum alloy fuselage, with nano-scale coating on the surface, quick cutting strip without soot, 2-3 kg vegetables per minute,
Specification
Dimension

30*30*52mm

Weight

4Kg

Blade size

10.5 * 10.5 cm

maximum height

30 cm, can accommodate

Capacity

8-10 vegetables /min

Cutting strip size

6.5mm * 6.5mm, 9.5mm * 9.5mm,
12.5mm * 12.5mm, 20mm * 20mm, 25mm * 25mm
Feature
• Easy Chopper is the tool for salsa, pizza;
• for fast, easy chopping, slicing, and dicing;
• Suitable for onions, tomatoes, potatoes, celery, peppers and other firm veggies;
• Replacement parts are available ;
• takes labor and cost out of your food prep operations. It's fast, efficient;
• easy to use and easy to clean. Plus, it's safer than a knife—and built to last.
Product Detail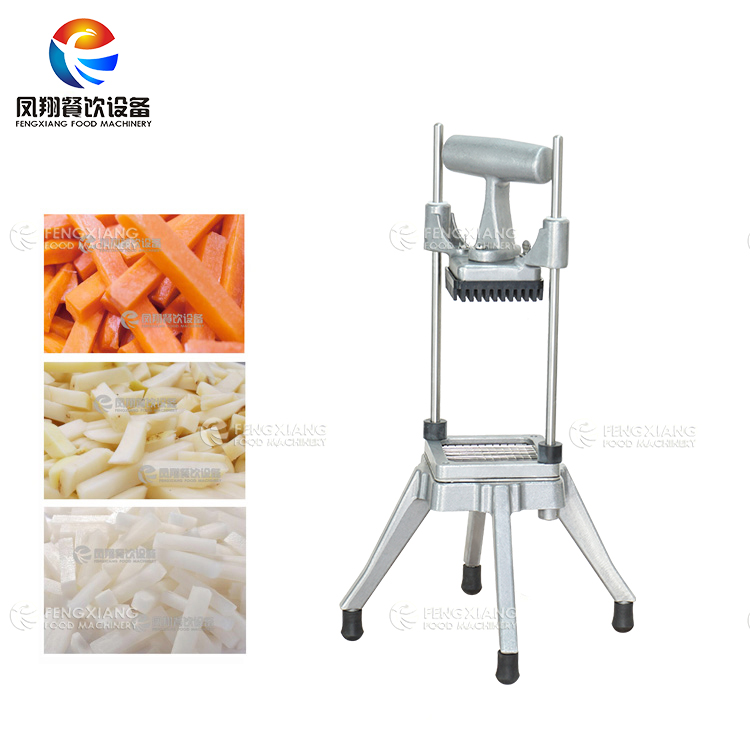 Slice once and dice twice ↓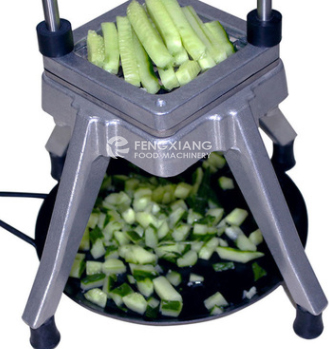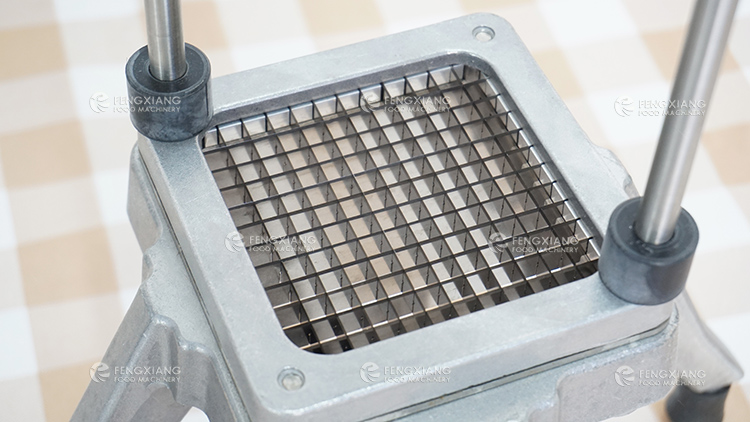 Zhaoqing Fengxiang Food Machinery Co.,Ltd. is a professional food processing machinery company and a supplier and manufacturer of fruit and vegetable processing machinery. It has 13 years of senior industry experience. Fengxiang has won a wide reputation with skilled engineers and excellent service teams, providing cost-effective processing machinery and a complete production line for thousands of catering units and kitchenware enterprises.
Fengxiang provides customers with food processing solutions, including vegetable cutting machine, vegetable washing machine, peeling machine, sorting machine, drying machine, frying machine, juicer machine, packaging machine, seafood processing equipment, meat processing equipment,etc. Fengxiang can customize products for customers on demand, please contact us for more details.

Small Manual Wave Potato Chips Cutter Electric Vegetable Slicer Machine CS-50 Small Quick Spring Onion Shredder