This machine is made of 304 material (except chiller), which is composed of refrigeration system, circulation filter system, air bubble cleaning system, water inlet and distribution drainage system and rack. The operation is simple, the cleaning is easy, and the operator is most convenient.
Parameter of Refrigeration Bubble Washing Machine
| | |
| --- | --- |
| Dimension | 1500*850*950mm |
| Voltage | 220V |
| Power | 2.45KW |
| Material | Stainless steel304 |
Feature of Refrigeration Bubble Washing Machine
1.Refrigeration system: Automatically control the refrigeration temperature to ensure the quality of products and keep them fresh.
2.Adopt imported brand compressors, equipped with safety devices, efficient and reliable.
3. Made of 304 stainless steel, sturdy and corrosion-resistant, meets the requirements of food hygiene.
4. Air bubble cleaning removes food impurities, degrades residual pesticides, low energy consumption, saves water and time, and maintains the original color of the product.
5. Suitable for cleaning fruits and vegetables and seafood ,meat, used in canteens, hotels, catering chain stores, meat processing factories, etc.
Detail Photos of Refrigeration Bubble Washing Machine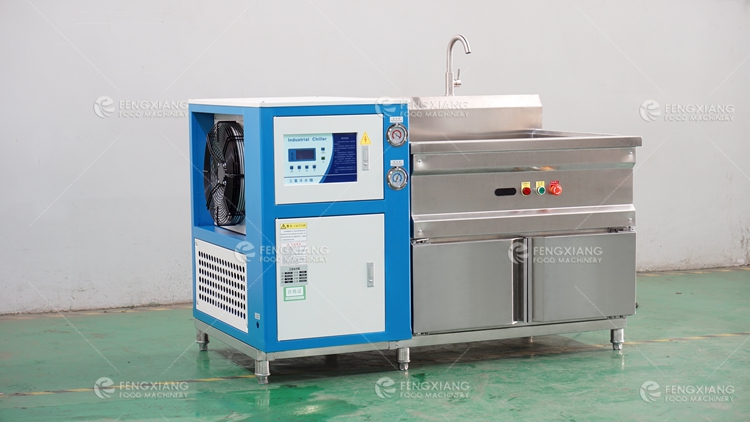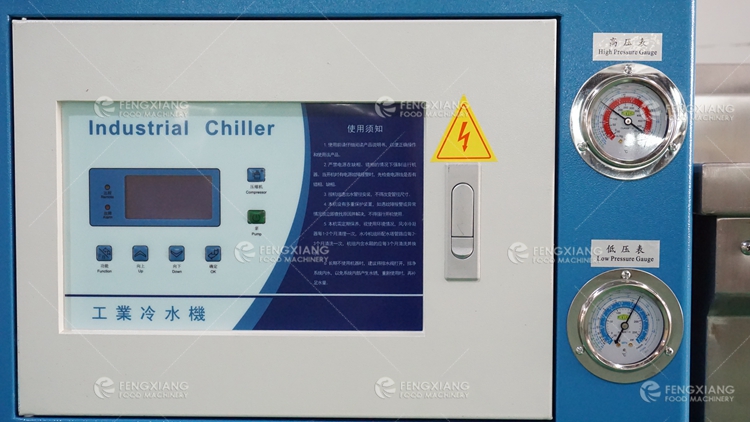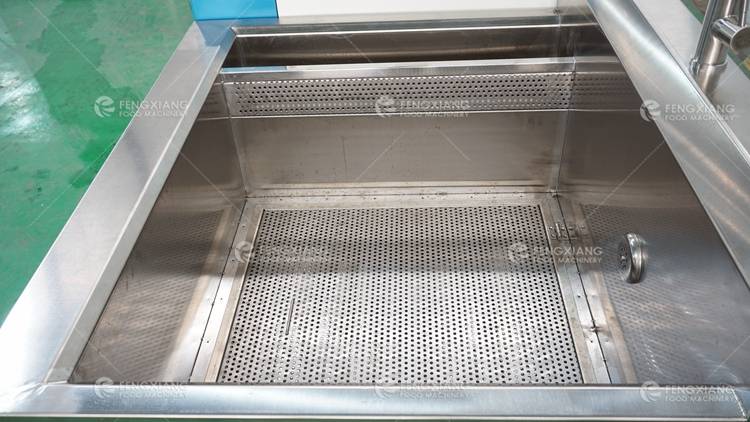 Principle of Cooling Water Bubble Thawing Machine
Air bubbles are generated by the high-pressure fan, and the air bubbles are transported to the cleaning tank, and the materials are fully scattered, rolled, and cleaned under the action of the air bubbles. Heavy materials such as mud and sand eluted from the surface of the material sink into the bottom isolation compartment, and the debris floating in the water enters the collection hopper through the mesh plate, so as to achieve the purpose of separating impurities from the material. The chiller cools the water body to ensure the temperature of the water body and thus the cleaning temperature of the materials.
Zhaoqing Fengxiang Food Machinery Co.,Ltd. is a professional food processing machinery company and a supplier and manufacturer of fruit and vegetable processing machinery. It has 13 years of senior industry experience. Fengxiang has won a wide reputation with skilled engineers and excellent service teams, providing cost-effective processing machinery and a complete production line for thousands of catering units and kitchenware enterprises.
Fengxiang provides customers with food processing solutions, including vegetable cutting machine, vegetable washing machine, peeling machine, sorting machine, drying machine, frying machine, juicer machine, packaging machine, seafood processing equipment, meat processing equipment,etc. Fengxiang catering equipment can customize products for customers on demand, please contact us for more details.

WA-2000 Vegetable Washing Machine XWA-1300 Vortex Type Washing Machine Spray Washing and Sterilizing Machine