Fengxiang Electric Integrated Food Steamer Large steaming Bun Cabinet
Description of Integrated steamer oven
The electric integrated food steamer is a special cooking equipment for the frozen food industry. Electric food steamer is used to steam or cook food. The integrated steam cabinet is widely used for steaming rice, steamed soup, steamed vegetables, steamed seafood, stews, snacks, etc. Steamer specifications can be selected according to the output of processed foods.

Main Parameter
Single door steamer

Double door steamer

Three-door steamer

Model

FC-1250L

FC-2250L

FC-3300L

Dimension

1250L*1070W*2050H

2250L*1070W*2050H

3300L*1070W*2050H

steam pressure

0.4-0.5Mpa

temperature range

Normal temperature 100℃

Power (without independent pumping)

220V 、0.5KW

Power (with independent pumping)

380V 、1.5KW

Electronic control system

PLC system control or digital display controller control

Vapor source

Steam generator boiler
Product Fature
►Manufacturing conforms to "HACCP":The structure is completely made of 304 stainless steel, which is durable and has no sanitary corners. The cabinet is perfectly designed, and the steam cabinet is composed of an inner casing, a heat insulation layer and an outer guard plate.
►Good sealing and heat preservation effect:During the cooking process, very few water droplets are produced, and the quality of the production of the noodle point is well guaranteed and completely separated from the outside. There is no return port, but it can be drained and vented.
►No need for human safety and hygiene:Use the foot control lifting ramp to use the steamer to enter and exit the steaming cabinet to avoid cross infection caused by manual operation. An independent pumping system is installed at the top of the cabinet to prevent condensation and burns.
►Controlled by PLC system or digital display controller:All parameters in the production process can be recorded in real time to ensure the authenticity and reliability of the original data. The system works stably, low power consumption and convenient maintenance.
Application
The steaming cabinet series is suitable for hotels, restaurants, schools, institutions, corporate canteens, steamed bread, steamed noodles, steamed noodles, such as buns and steamed buns.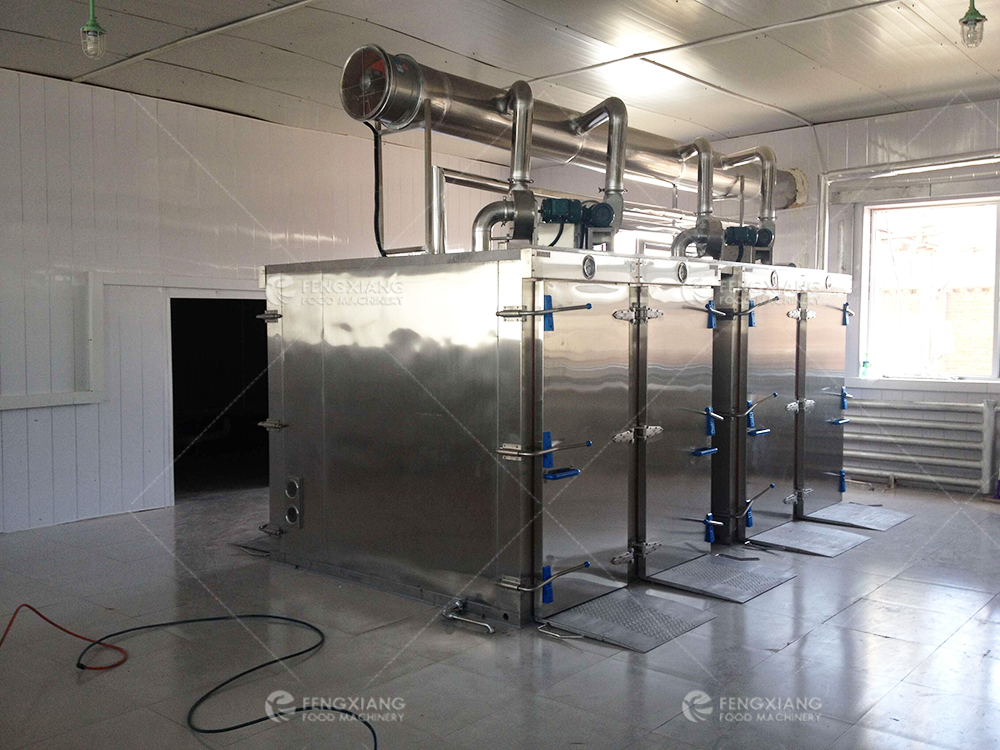 Fengxiang Food Machinery Co., Ltd. is a professional food processing machinery company and a supplier and manufacturer of fruit and vegetable processing machinery. It has 13 years of senior industry experience. Fengxiang has won a wide reputation with skilled engineers and excellent service teams, providing cost-effective processing machinery and a complete production line for thousands of catering units and kitchenware enterprises.
Fengxiang provides customers with food processing solutions, including vegetable cutting machine, vegetable washing machine, peeling machine, sorting machine, drying machine, frying machine, juicer machine, packaging machine, seafood processing equipment, meat processing equipment,etc. Fengxiang can customize products for customers on demand, please contact us for more details.

Small Manual Wave Potato Chips Cutter Electric Vegetable Slicer Machine CS-50 Small Quick Spring Onion Shredder