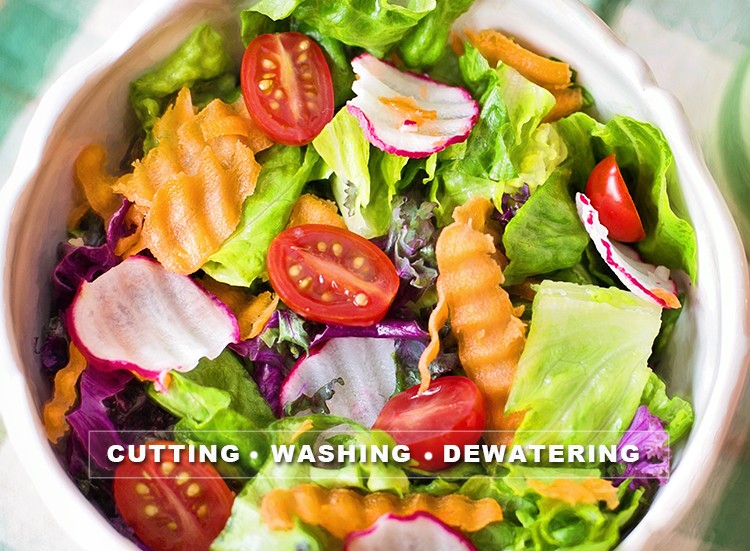 This vegetable production line is designed to make salads, realize vegetable cutting and secondary thorough cleaning, and is equipped with a lifting conveyor and an automatic dehydrator to solve the problem of continuous production lines.High output, high automation, suitable for small and medium-sized catering enterprises, can also be used to process fruits and vegetables.
The Specification of Vegetable Salad Processing Line
Machine

Dimension

Voltage

Power

Capacity

FC-306L

cutting machine

1020*760*1370mm

220V/380V

1hp+1/2hp

1500-2000KG/h

Elevator

2520*740*1950mm

380V/50(60)HZ/Phase

0.25 KW

500-1000kg/h

WA-1000 washing machine

2500*900*1140mm

380V

3.2kw

500-700kg/h

Continuous dehydrator

1380*1380*1850mm

380V

2.4kw

300-500kg/h
Vegetable Salad Processing Process Flow:

Vegetable Cutting → Lifting and feeding (to the vegetable washing machine) → Washing and decontamination → Secondary cleaning → Lift and transport (to the dehydrator)→ Dewatering → Final outlet with conveyor
1) Vegetable cutting machine: It is used to cut vegetables into slices ,chop and shred, with large output and adjustable cutting thickness.
2) Funnel elevator: It is used to lift leaf vegetables and connect with vegetable washing machines.Adjustable belt tension and easy to clean.
3) Vegetable washing machine: The combination of three cleaning methods, such as air bubbles, circulating surfing and high-pressure spraying, is used to make the vegetables be thoroughly cleaned in all directions.
5) Continuous dewatering machine: It uses the principle of centrifugation to dehydrate and dry the material to remove the moisture on the surface.
6) The production line can be customized, automatic and simple operation, in line with food safety standards, suitable for Small and medium-sized catering enterprises, etc.
Detail of Vegetable Salad Processing Line
The whole salad production line,can be customized according to your need.

►Vegetable cutting
►Vegetable washing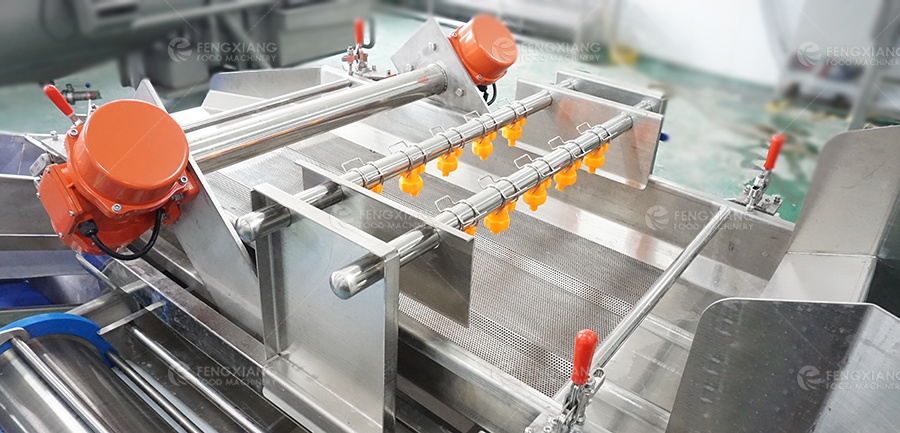 ►Vegetable dewatering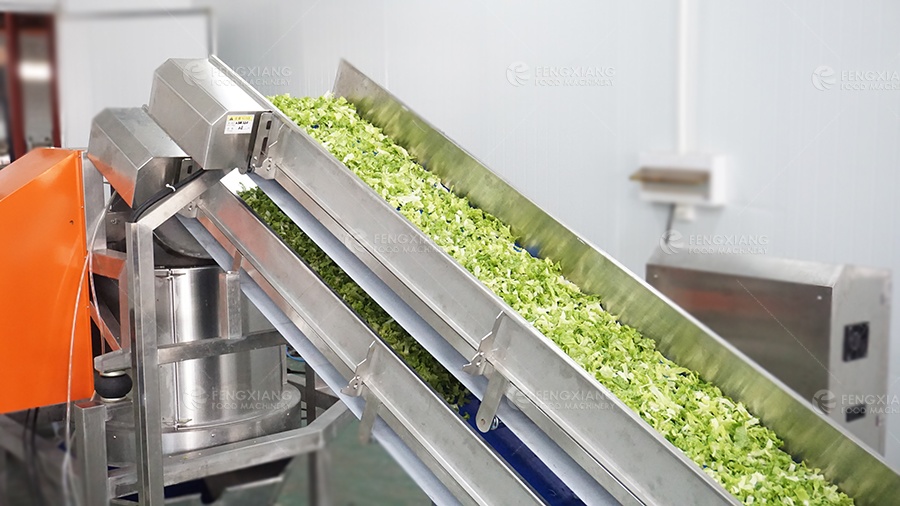 ►The finished vegetables are dry and undamaged, processing effect is good.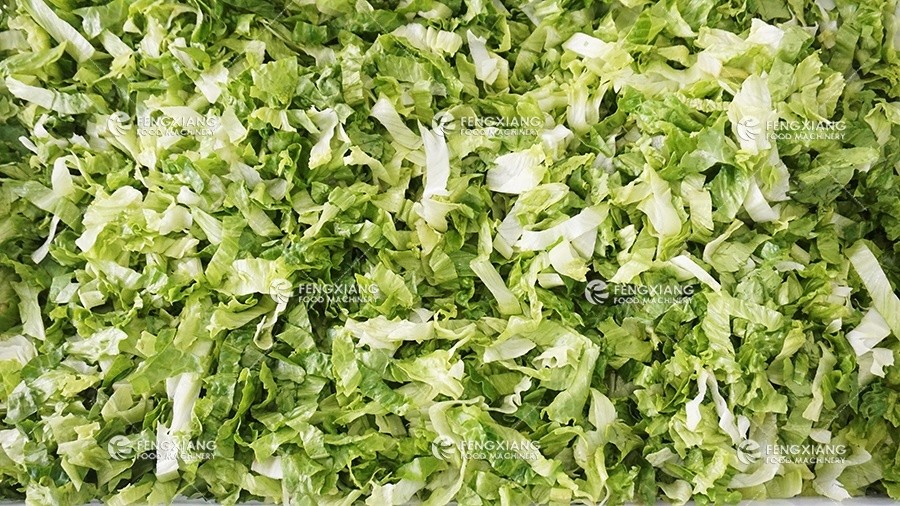 ---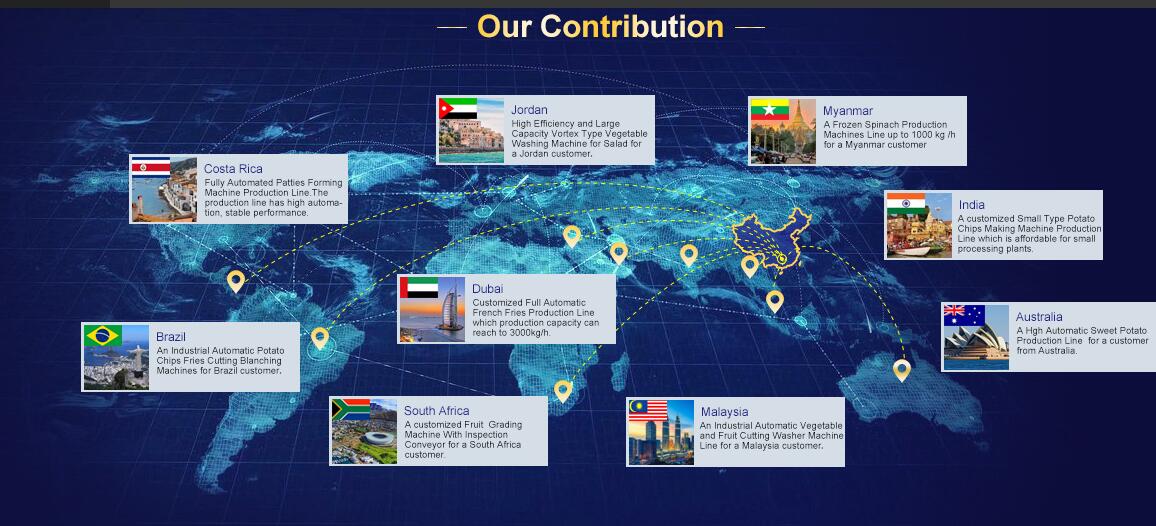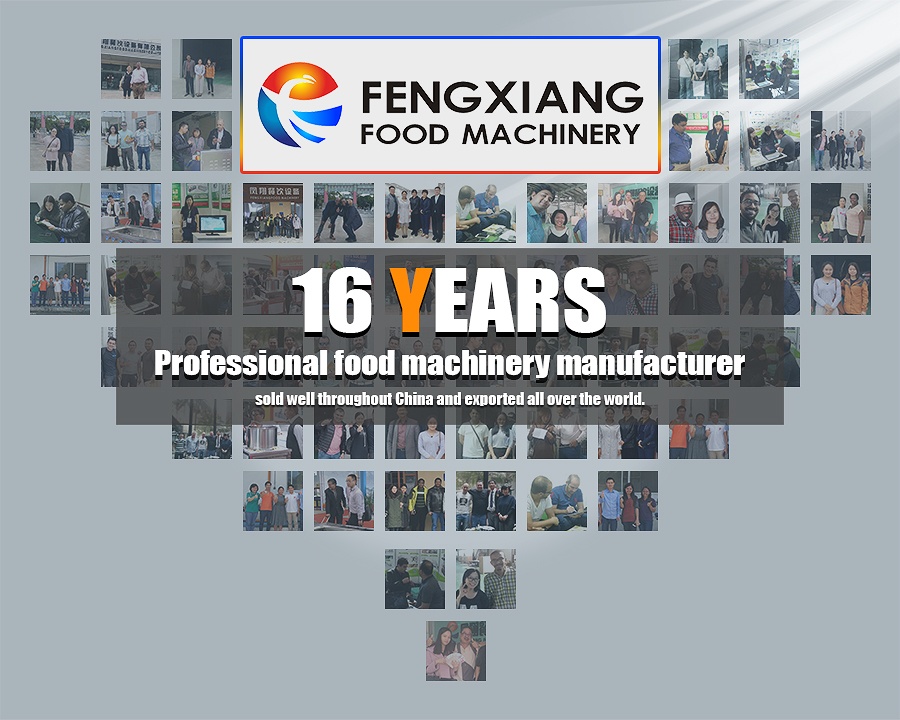 Fengxiang Food Machinery Co., Ltd. is a professional food processing machinery company and a supplier and manufacturer of fruit and vegetable processing machinery. It has 16 years of senior industry experience. Fengxiang has won a wide reputation with skilled engineers and excellent service teams, providing cost-effective processing machinery and a complete production line for thousands of catering units and kitchenware enterprises.
Fengxiang provides customers with food processing solutions, including vegetable cutting machine, vegetable washing machine, peeling machine, sorting machine, drying machine, frying machine, juicer machine, packaging machine, seafood processing equipment, meat processing equipment,etc. Fengxiang can customize products for customers on demand, please contact us for more details.